Another week has passed by and I'm sitting here late on a Friday wondering why I signed up for this.  This week I'm in Philly PeeAy to checkout a concert that might not happen and the "other" football as the Eagles play the St Louis Rams to the theme of Rocky…..
Fly Eagles Fly….  could be something that Crystal Palace Try.
And here we go.  I'm very tired so not thinking 100% straight…
| 4-October 2014 | | |
| --- | --- | --- |
| Swansea City | 2-1 | Newcastle United |
| Hull City | 1-2 | Crystal Palace |
| Sunderland | 1-1 | Stoke City |
| Liverpool | 2-2* | West Bromwich Albion |
| Leicester City | 2-1 | Burnley |
| Aston Villa | 0-3 | Manchester City |
If there was a competition for longest tenured manager in the league, Alan Pardew would have a silver medal podium-finished (we could even say he medalled if you like changing how the English language works).   Unfortunately, the competition that Alan Pardew is in – is the Premier League were he doesn't have a realistic chance  playing with a team no knowing if they are coming or going (I sense a bathroom humour joke somewhere here).
Swansea haven't been setting houses on fire they'll put more fuel on the fire… and win 2-1
I've said that I overrate Hull and so this is the week that I finally give in and go against the grain.  This week the Eagles will fly!  1-2 despite the fact that a Steve Bruce team is acting rather un-Steve Bruce like team and banging in the goals.
If ever a game said draw it would be Pictionary but if ever a premier league game could speak to us and assure us that a draw is coming it has to be Sunderland – Stoke. Expect a turgid affair. 1-1
Liverpool has been downright disappointing so far this year.  I thought that Suarez was the best player last year and it always looked like it would be hard for Liverpool to eek out the same number of goals (and free kicks).   I did think they would win and do well but it was predicated on Sturridge being healthy.. and then Balotelli showing up with goals rather than just pure workrate.  Neither has happened but this week they will finally get some goals from the possession.. maybe Balotelli's hard work will pay off. 2-0  [Though I always pick WBA to draw 2-2]
Leicester City have heart.  Burnley had theirs ripped out by a rampant West Brom.   Love the baggies but the Foxes are going to bag it with Schmeichel Junior proving too good. . 2-1
Here we are.  The dreaded Aston Villa pick… oh how I want you in the bottom three but I am drawn to you through some unknown force… you are my bane, my kryptonite… and you will lose at home by 3 goals scored by a little Argentinian and a tall B & Hian.  Time to put Fat Frank back on the bench and let him rest his old legs.  0-3
I think we've seen the best of Villa for the year.  A few losses on the bounce being served soon!
| 5-October 2014 | | |
| --- | --- | --- |
| Manchester United | 3-2 | Everton |
| Tottenham Hotspur | 2-1 | Southampton |
| Chelsea | 2-1 | Arsenal |
| West Ham | 2-0 | QPR |
| | | |
| | | |
Manchester United will be without the league's most temperamental player – Rooney.  Slowly the liability of his actions is being questioned more than his contribution to the game.  Three to the good moving powerfully forward and two to the … bad? as they can't handle the Toffeemen in the back.  I slowly think Manchester United are  turning things around and soon they will be challenging for that Europa League place.  3-2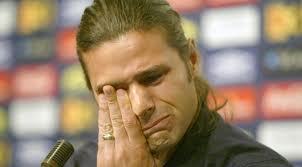 The Spuds.   They are increasingly looking lost as Pochettino realizes that he can't make his players play the way he wants.: that is,  Well.
He decides to install the long ball a little and the direct approach.  Get the ball in the box.  Get it in the net.  I actually think that's the team speech – we've finally reached  that point where we recognize that someone needs to explain to Soldado what his role is.
They'll go up 2-0  but Spurs will do everything in their power to haunt their fans so will they try switching a defender for a goalkeeper to see if the referee would notice.
Chelsea are at home.  Livi told me to pick them to win.  Who am I to argue.  Chelsea 3 (Costa will score again) Arsenal 1 (Cashley makes it on as a late sub and forgets which side he's on)
West Ham and QPR is the biggest London derby this week and one that I don't care about.  I'll say 2-0.