As always, predictions aren't locked in until the first kick-off.
Happy to see so many updated their picks early. Still waiting for a couple.
This Week's Comments
I do not publish all the comments so don't be offended if yours are not included.  I will be adding a new special segment to posts though called AB's Fun Factoid.
AM: "Gone & done the unthinkable – United for a home defeat!!"
It's only unthinkable to a United fan.  The rest of us have often picked United for a home loss – the lack of bias shows you are maturing as a picker.  I also hope you're right!
BE: "Arsenal have proved they can actually get the ball in the net if they can create enough scoring opportunities. Here's hoping they hammer in a few goals."
You would hope that if you create scoring chances you would get the ball in the net – last week saw multiple misses from inside 6 yards.  Probably said more about Chelski than Arsenal but big win is needed this week.
ME: "Resorted to guesswork this week!"
Isn't that every week week?  I should pass on your weekly analysis to AM… so he can laugh at you as he looks at who's behind him.

AA: "Only partly random this week. Hope is there for Wolves. Faint hope, but hope nonetheless."
I was only kidding when I said we'd respect you for picking wolves ?.
LJ:"Hornets on a roll; let's keep it going."
This week has been all about Harry Hornet doing his Zaha impression.  I'd rather focus on his happy dance.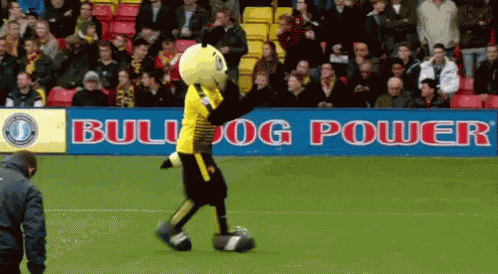 Of course, I would be amused if he added a Neymar roll to his dive.
KMFE:"Thinking we should add in some Scottish Prem — it appears Stevie G has wired together a squad that never loses… A million Scousers cry that he didn't learn this as a player…"
Ouch..  let's hope they don't slip up a the end though.   Interestingly, they decided there was no room at the Inn for the Glasgow teams in the English league.  I guess Swansea, Cardiff, and Wrexham were lucky to get in when they did.
Bonus points for anyone who can add in the comments three other Welsh teams in the English League without cheating.  AM- Any clues?
AB's Fun Factoid
Soccer developed in London's famed Newgate Prison in the early 1800s. Prisoners who had their hands cut off for crimes of theft came up with a sport that used only the feet.
So claimed by https://medium.com/sportspickle/20-amazing-soccer-facts-most-american-sports-fans-don-t-know-4a9a0dd7abf9
This Week's Analysis
Bournemouth vs Everton
Seems everyone is on the Everton bandwagon already but I don't see Richarlison scoring every week and everyone has too quickly fallen off the Bournemouth bandwagon.
Arsenal vs West Ham
No idea what Emery is trying to do – he wants to play a high press but in that style of play Ozil doesn't work (literally). HenrikhMkh doesn't really fit the system either and he insists on Auba being stuck up front.  Maybe he'll switch things up – put Ramsey back.  They need a win.
Fulham vs Burnley
Think I'll save time and do a few with pictures.

Huddersfield vs Cardiff

Liverpool vs Brighton
Man United vs Tottenham
How will Spuds do at Old Toilet?  I recommend that they don't let Lloris park the bus!  United will find a way to not lose – it's what they do in big games.
Newcastle vs Chelsea
Chelsea have had a week to remind Kante that's he's not a goalscorer.  Expect it tighter at the back.
Southampton vs Leicester

Watford vs Crystal Palace
Watford are on a roll.  Crystal Palace are too.  Which team will crack first?  Woy is pwaying mind games so maybe that indicates a lack of confidence.  Should be a close game but Watford might nick it if Zaha stays standing.
Wolves vs Man City
One plucky picker picked an upset!  They've also mentioned a number of times that Neves should be kicking for the Eagles.  I'm not sure that would work but who knows what the future holds – we had an Australian Rules punter for a while (and he was good).